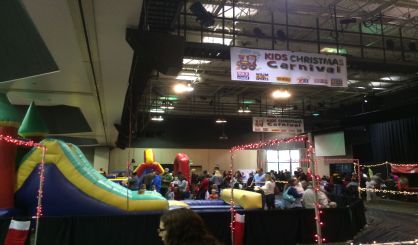 The Christmas season is here, and a special party was held Saturday at LMC's Mendel Center to celebrate. The 6th annual Kids Christmas Carnival, partly sponsored by Mid-West Family Broadcasting, featured bounce houses, pictures with Santa, cookie decorating, and much more. Mid-West Family's Lindsay Zvonar told us the event was a huge success.
"There has been a lot of families here," Zvonar said. "We are almost out of cookies, which has never happened before."
In case you're wondering, they went through about a thousand cookies, which the kids got to decorate with Mrs. Claus. Zvonar was glad to see everyone in the spirit.
"Turnout has been great just to see how many kids are excited to be here, and want to be here for Christmas and the holidays."
Hundreds of people came out to the Mendel Center for the afternoon. In addition to the fun for the kids, their parents had some opportunities to do early gift shopping.