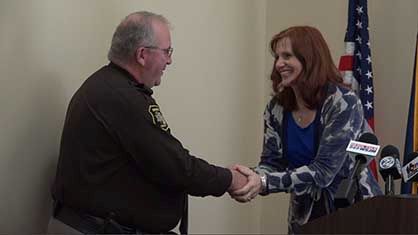 A big donation this week to the Berrien County Sheriff's Department, thanks to the Berrien Community Foundation and folks like you. The community foundation's Lisa Cripps Downey on Wednesday presented Sheriff Paul Bailey with a check for more than $52,000, all raised after the July 11 shootings at the courthouse.
"Following those shootings, the community was in shock," Cripps-Downey said. "We all wanted to do something to make it better. So, the Berrien Community Foundation met with Sheriff Bailey and talked about unmet needs of the sheriff's department that could possible prevent something like this from happening again."
Then, the community foundation started collecting money from the public. It'll be used to buy new vests, holsters, and gun lights for the sheriff's department. Sheriff Bailey said all of those items will help deputies avoid injury in active shooter situations.