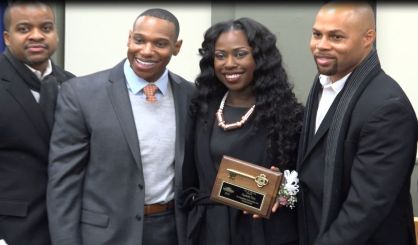 The Benton Harbor City Commission has saluted a local success story. At Monday's meeting, a key to the city was presented to Psychelia Terry, the founder of UI Global Brands. She graduated from Benton Harbor High School, went to Western Michigan University, worked for Whirlpool, and then started a lingerie company that's now a multi-million dollar cosmetics and apparel operation. Terry told WSJM News she was thrilled to come home for the honor.
"The city has been roaring, and I can hear the Tigers roaring all the way from Frisco, Texas, all the way on our 15 hour drive here to Benton Harbor, Michigan, and it's kept me alive," Terry said.
Terry Founded UI Global Brands as Urban Intimates while living in Nevada in 2009. The business has come a long way, now selling products nationwide in chains that include Macy's and Walmart. She says that Tiger spirit has helped her along the way.
"You can say the city of Benton Harbor is full of fighters and passionate people, and you can think that's a negative thing, but I think it's absolutely a great thing, and it's what's kept me in multiple retailers across the country," Terry said.
Although Terry runs the company from Texas, she told us she comes back to Benton Harbor all of the time.
"It's the people that make home home, and from principals to teachers and our wonderful Whirlpool Corporation where I had a 12 year career, I think it's those people who have helped create such an amazing city," Terry said.
Terry works with young girls when she's in town. Mayor Marcus Muhammad said she's an inspiration to all students at Benton Harbor Area Schools.