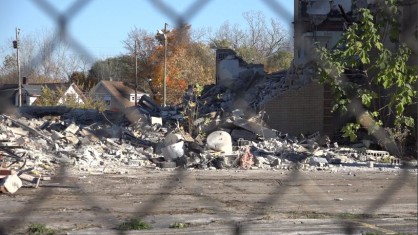 In a sign of the continuing work on the building's demolition, the chimney at the former Mercy Hospital in Benton Harbor is now gone. Berrien County Treasurer Bret Witkowski tells WSJM News it was removed Tuesday. Demolition is on track to be done at the end of the month, and next, Witkowski says they'll have to clean up the property and find a buyer.
"We have had one developer interested possibly already in the property," Witkowski said. "So, we are getting them information on that and, hopefully, that would be a huge plus for the city."
Witkowski tells us they'll market the property all over the region. He thinks its seven acres would be ideal for a commercial and residential development. The final decision when it comes to zoning and similar matters will be up to the city of Benton Harbor.