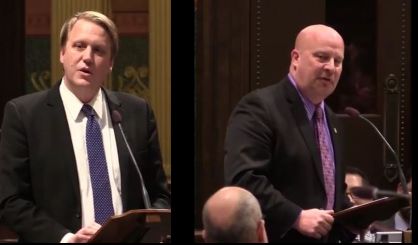 State Representative Al Pscholka has said goodbye to the Michigan House. Outgoing lawmakers got to give their farewell messages on the floor Wednesday. Pscholka has a message for the kids of Michigan, telling them even if they get a bit of a rough start in life, they can still go far.
"You can become the first one of your family to go to a great school, Western Michigan University, and you can be the first in your family to graduate college, and you can overcome lots of stuff if you listen to your teachers and coaches," Pscholka said. "You could end up here, working with some of the greatest people you will ever, ever meet."
Pscholka had several thanks, for his staff, his wife, his daughter, and the governor. Meanwhile, state Representative Aric Nesbitt, of Lawton, also gave his farewell speech Wednesday. He asked those lawmakers who will remain in Lansing to do the right thing moving forward.
"Please continue to fight for the individual over the state, for the taxpayer over the tax taker, for Main Street over Wall Street, and for that little ordinary guy back home over the big powerful guy that's sometimes up here," Nesbitt said.
Nesbitt also praised the improvements Michigan has seen in the past decade or so. Both Pscholka and Nesbitt have been term limited out of office. They both first went to Lansing in 2010.