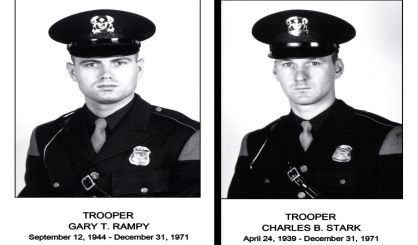 Michigan State Police will remember two fallen troopers this week. On Friday, the 30th, they'll hold a memorial service for Gary Rampy and Charles Stark. The two troopers will killed 45 years ago along Red Arrow Highway in New Buffalo. MSP Lieutenant Melinda Logan.
"On December 31, 1971 at approximately 2:50 a.m., Trooper Stark and Trooper Rampy conducted a traffic stop on a vehicle for a traffic violation. Both troopers were killed by the driver of the vehicle that was wanted for several felony violations and for killing somebody out of state," Logan said.
Logan tells us they're holding the memorial for Rampy and Stark at New Buffalo Township Hall at 1 p.m. Friday. Some of their family will be on hand. Trooper Rampy was the 26th MSP officer to die in the line of duty, and Trooper Stark was the 27th MSP officer to die in the line of duty.  You can learn more about Stark and Rampy here.