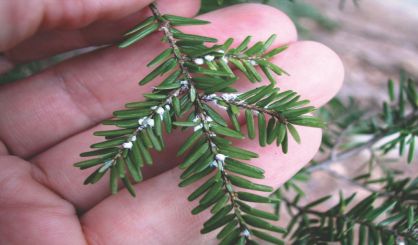 Experts say it's never too early in the year to take a peek at your trees, and this year, it could help to stop the spread of a dangerous pest. The hemlock woolly adelgid, or HWA, is a tiny insect that secretes white wax as it feeds on the sap of hemlock trees. The wax, over time, can kill the tree. The invasive insect has already been found in parts of West Michigan. Roger Mech, with the DNR, says you don't have to go far to see just how harmful it can be.
"It's striking," Mech said. "In fact, if you've spent any time driving through New England, Virginia, you'll see tens of thousands of acres of hillsides of dead hemlock. So, the impact is significant."
The DNR is asking everyone to check their trees for signs of HWA and to contact them if they spot it. At least 12% of Michigan's forests have eastern hemlock trees.