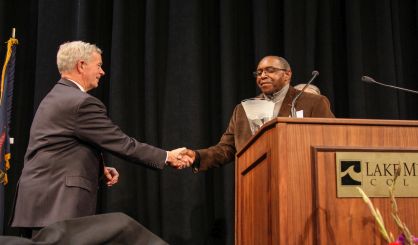 For the 22nd year, Lake Michigan College has celebrated the spirit of Martin Luther King, Jr. At its annual MLK breakfast Monday morning, President Bob Harrison told the gathering of ministers, elected leaders, teachers, and police officers that Dr. King's vision is one LMC strives to work toward each day.
"Lake Michigan College recognizes its obligation to leading the community, both as an educational institution, as an employers, and as a catalyst for diversity in the region," Harrison said.
The 16th annual Martin Luther King Jr. Diversity Award went to Rev. Aaron Cobbs, of the Spiritual Church of Christ in South Haven. The church offers its Seed of Hope Scholarship each year to students from South Haven's 1st ward. Cobbs reflected on the message of the "I Have a Dream" speech.
"It's that we are all tied together," Cobbs said. "We all need one another."
LMC will continue to remmeber Dr. King with its Race Relations Council Forum Tuesday. This year's theme — "Promoting Racial Equality in Education."