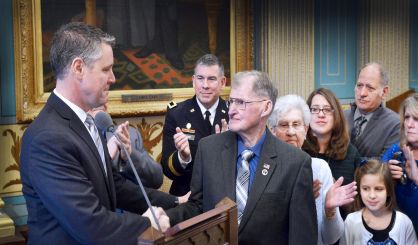 State Senator John Proos has honored a southwest Michigan veteran of World War II, the Korean War, and Vietnam War with a special presentation in Lansing. On Wednesday, Proos welcomed Arthur Hawkins, of Riverside, to the Capitol. He saluted Hawkins for his 34 years of military service.
"We are truly grateful for his bravery, courage and willingness to risk his won life in order to protect the liberty and freedom that we and so many others in our great nation hold so very dear," Proos said.
During his military career, Hawkins received the National Defense Service Medal with one Bronze Star, the Air Force Longevity Service Award Ribbon, and the Distinguished Presidential Unit Citation. Proos presented Hawkins with an American flag that has been flown over the Capitol.