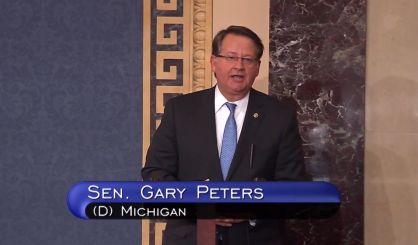 President Trump's pick to head up the U.S. Department of Education is not getting any support from Michigan's U.S. senators. Senator Gary Peters says West Michigan Republican powerbroker Betsy DeVos is not qualified to serve as education secretary.
"Mrs. DeVos' resume contains no experience in public education at any level, not as a teacher, not as an administrator, not as a student or parent, not as a school board member and not even as a borrower of public loans for college," said Peters in a speech on the Senate floor. He went on to say her only education experience has been her work "lobbying for the transfer of taxpayer money to private schools and the rapid expansion of charter schools without sufficient accountability to parents and students."
Peters also called out DeVos' testimony before the a Senate committee last week, saying it raised more questions than provided answers.
"During her confirmation hearing, Mrs. DeVos showed herself to be unfamiliar with some basic educational concepts, like the debate over whether we should measure student success by growth or proficiency. Madame President, if Mrs. DeVos doesn't even know how to measure success, how can she be expected to achieve it?"
Democrats have been rejected in their request for a second confirmation hearing for DeVos, saying it's needed to question her about nearly 100 conflicts of interest she identified in documents submitted to a Senate committee after her first hearing. The Senate Committee on Health, Education, Labor and Pensions will vote on her nomination on Tuesday.