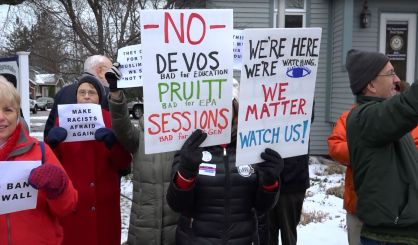 The local protests about President Donald Trump continue. On Tuesday, a crowd of about 70 gathered outside of the St. Joseph office of Congressman Fred Upton. Berrien County Democratic Party Chair Eric Lester told WSJM News they were there opposing the president's immigration executive order.
"The outrage of our citizenry at what Mr. Trump is palpable," Lester said. "It's just awful what Mr. Trump is doing."
Lester said they're also against Trump, in general. The protest was held outside of Congressman Upton's office because Lester says they want to get the local Republican's attention.