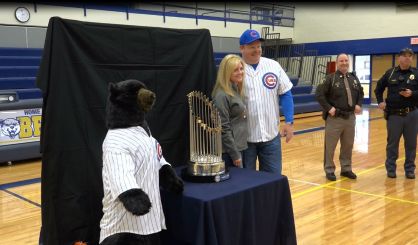 Chicago Cubs fans in southwest Michigan have had their chance to check out the team's World Series trophy up close and personal. The trophy made its stop in St. Joseph Monday. It was on display for a couple hours at the high school, where folks could get their picture taken with it. However, no touching. Heather Way-Kitzes, with the Cubs, told WSJM News St. Joseph was a logical stop for the trophy on its victory tour.
"We want as many of our fans to be able to see the trophy as possible, and we have a lot of support in northwest Indiana and southwest Michigan," Way-Kitzes said. "So, St. Joseph is a great, centralized location that could accommodate several hundred fans."
Folks could get their picture taken with the trophy. After that, it headed off to Kalamazoo.