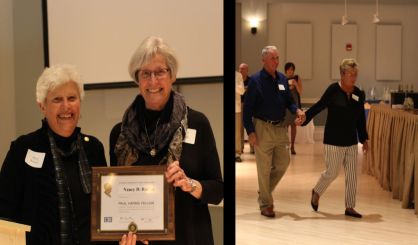 The Rotary Club of St. Joseph-Benton Harbor has handed out its annual Paul Harris Fellow Community Leadership Awards. At a celebration of the Rotary on Monday, they gave out two of the awards, which Rotary President Steve Smith tells WSJM News are all about saluting those who embody the group's spirit, even if they're not members.
"Service above self is an important mantra for us, and we like to recognize people in the community who are not fellow Rotarians, but are doing things to help others that match what our goals are," Smith said.
One Paul Harris Fellow Community Leadership Award this year went to Denise Bohn, who received the honor posthumously for the wide array of work she did on behalf of the community. Her parents accepted on her behalf. Also receiving the award was Nancy Racine, who has helped raise more than $700,000 for the Readiness Center in Benton Harbor. Smith says this year's Celebrate Rotary event was also a big success, and he looks forward to next year.