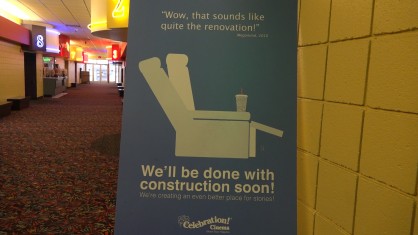 Celebration Cinema expects the ongoing renovations at its Benton Harbor location to be finished in June. Spokesperson Steve VanWagoner tells WSJM News they've added the new luxury recliners to six of the theater's 14 auditoriums so far. By the end of next week, they'll have finished eight. He tells us they want to make the movie going experience special.
"It's one that you can't get anywhere else," VanWagoner said. "It's about story, the story that we tell when we go out with our friends, we go out with loved ones, we're on a date, or we're just out to see a show. It's the experience we have with the quality of the seating, the quality of the food, or the wuality of the food and beverage."
All of the auditoriums at Celebration Cinema Benton Harbor are getting the new seats as well as other renovations. On top of that, the theater announced this week it's getting a full service bar and new menu items soon. VanWagoner couldn't yet elaborate on a timeline or details concerning the new menu.