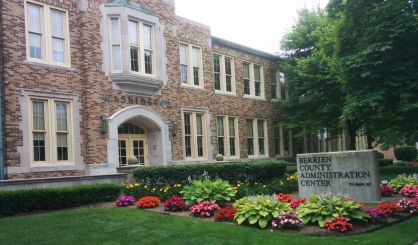 The office of Berrien County Treasurer Bret Witkowski is about to send out checks to local governments across the county to help them make up for the revenue they didn't get this year due to delinquent taxpayers. He tells WSJM News it's his job then to pursue those unpaid taxes, as it is for treasurers in every county of Michigan. Witkowski notes some communities have more delinquent taxpayers than others.
"The areas that have second homes seem to have a higher dollar amount, and also in our communities that I would say are the poorer of our communities have historically a higher amount, both in dollars and in the percentage," Witkowski said.
At the top of the list at Benton Township, the city of Benton Harbor, and New Buffalo Township. Witkowski's office will have to borrow nearly $11 million to from the state to make up for all the unpaid taxes.
Below is a list, provided to us by Witkowski, on which taxing entities have the highest rates of delinquencies.
Benton Charter Township has $1,641,635 unpaid taxes for 10.96% delinquency rate
City of Benton Harbor has $1,105.092 unpaid taxes for 18.90% del. rate.
New Buffalo Township has $664,110 unpaid taxes for 3.60% del. rate
City of Niles has $624,681 unpaid taxes for 7.95% del. rate
Chikaming Township has $601,172 unpaid taxes for 3.19% del. rate
Schools:
Benton Harbor Schools has $665,565.42 of unpaid taxes
New Buffalo Schools has $511,335.58 of unpaid taxes
Coloma Schools has $334,055.05 of unpaid taxes
Others
State Education Fund has $1,376,649.73 unpaid taxes
Berrien County has $1,489,645.12 in unpaid taxes
Lake Michigan College has $450,750.49 in unpaid taxes
RESA has $606,959.94 in unpaid taxes
Total amount borrowed $10,956,032.79 that now needs to be collected by the Berrien County Treasures office.