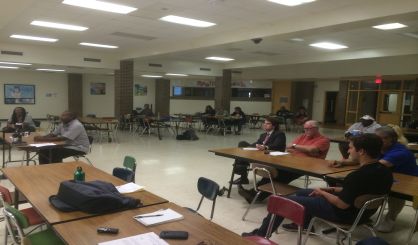 Elliot Uzelac will remain the head football coach at Benton Harbor High School. The board of education voted Thursday night to keep him in the position, while also reprimanding him and ordering cultural sensitivity training for all coaches after some controversy last month involving a text Coach Uzelac wrote about a student. Remarking on a picture of the student posing in front of a hot rod with a stack of cash, the coach asked, "How much drugs did he sell to rent that?" He apologized, and trustees are willing to move on. Superintendent Dr. Shelly Walker spoke with WSJM News abut the school board's decision.
"The board, acting on behalf of this community, deemed that it is in the best interests of the students that Coach Uzelac continue the work that he has proven is great for children," Walker said.
A group of coaches and parents praised the work the coach has done to turn around Benton Harbor Football, and also the impact he's had on the kids. The coach had no comment. The vote to keep him was unanimous, although Trustees Elnora Gavin and Angelika MacGowan were not present for it.