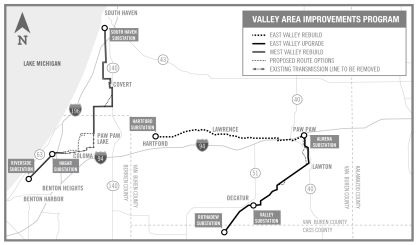 Indiana Michigan Power is planning a major improvement project in southwest Michigan. Spokesperson Tracy Warner tells WSJM News they're going to invest $146 million in new transmission lines and poles.
"We're looking at rebuilding and upgrading some transmission lines, about 60 miles of transmission lines in the area," Warner said. "Transmission lines are the ones that carry higher energy over longer distances. They're usually on steel poles and they carry energy from substation to substation."
Warner tells us this work will improve reliability.
"These are older lines," Warner said. "A lot of the system is very old, and it's served our customers very well, and now is the time to start upgrading."
I&M will start the work next year, and it will continue through 2021. They're planning a couple of open houses for this month for affected customers to learn more. One is at Lawton Middle School on the 21st from 5:30 to 7:30 p.m. The other will be on the 22nd at Coloma High School from 5:30 to 7:30. The work will be along major transmission lines from Benton Township all the way to Paw Paw.