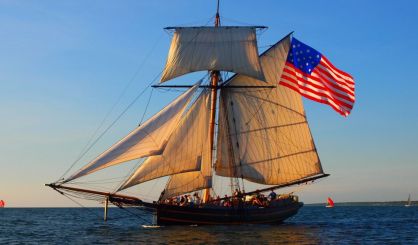 Coming soon to the Michigan Maritime museum in South Haven will be some adventures with pirates. Museum Director of Education Ashley Deming tells WSJM News Pirate Chaser Adventure Sails are programs to be offered most days starting next Thursday. Kids and families can come out and take part in a battle with pirates aboard the tall ship Friends Good Will.
"There's a sword fight, and then we capture the treasure and bring it back safely to South Haven," Deming said. "So, it's just a lot of fun for families and kids to enjoy."
They have actors play the pirates, and the sword are foam. Deming tells us they started the program partly in response to frequent comments from people about how the Friends Good Will looks like a pirate ship.
"Everyone on the beach would say, 'There goes the pirate ship, there goes the pirate ship,'" Deming said. "So, we thought we want to do something with that, but to be a little bit more education and historically accurate, we need to fight pirates and not be pirates."
Pirate Chaser Adventure Sails will be held Tuesdays through Saturdays at the Michigan Maritime Museum at 11 a.m. To find out more, go to MichiganMaritimeMuseum.org.