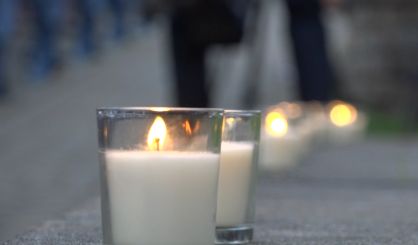 There will be a memorial walk and candlelight vigil on the anniversary of the Berrien County Courthouse attack next month. Retired St. Joseph Public Safety Officer Deniece Fisher tells WSJM News the walk will start at 8:30 p.m. at the courthouse and end at the Berrien County Law Enforcement Officer's Memorial Monument in Lake Bluff Park.
"Anyone who is interested, please come out," says Fisher. "I'm hoping we have a ton of people, just like last year for the walk we had during the day."
The event is to celebrate the lives of Joe Zangaro and Ron Kienzle, the officers killed by an inmate who was trying to escape last July 11. That inmate was shot and killed by responding officers. Fisher says time hasn't healed the wounds.
"It actually makes me choke up a little bit just thinking about it," she told WSJM News.
The walk will start at the courthouse in St. Joseph at 8:30 p.m. and end at the law enforcement memorial in Lake Bluff Park. Candles will be provided for the vigil, but you're encouraged to bring your own if you have some to ensure there are enough for everyone.