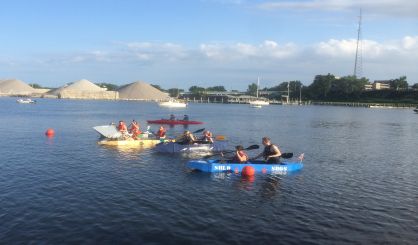 One year after the first Rock the Boat Cardboard Boat Races for the United Way of Southwest Michigan, the event has proven to have staying power. 30 boats took part in Thursday's second annual event, compared to six last year. Teams built their boats out of cardboard, duct tape, and polyurethane and raced them in the St. Joseph River off the Inn at Harbor Shores to raise money for the United Way. WSJM sister station Rock 107 WIRX had morning host Brock Havens and his crew out there. They were talking big ahead of the run.
"We spent a solid two and a half to three hours on this boat," Havens told WSJM News. "At least two and a half to three hours."

"He's gonna win, he's gonna do it," WIRX's Hunter said. "I know it!"
That was about an hour before the "S.S. Good Enough" sank in the middle of its race against a Boy Scout team. Havens blamed inferior cardboard. United Way of Southwest Michigan President Anna Murphy told WSJM News it felt great to see the cardboard boat races take off so much this year.
"This is amazing," Murphy said. "A great partnership with Whirlpool Corporation who actually put all of this together to benefit the United Way. Having the spectators out here and the food truck and the radio stations, it's awesome. Good stuff."
The winners overall were the Whirlpool Sears team, who told us it's all in the design. Taking home the People's Choice Award was the Wightman and Associates team, the Best Theme award went to the United Way's own boat, and Most Creative went to the Cook plant's entry. Last year's cardboard boat race raised about $15,000 for United Way. No total is yet available for this year's event. It was sponsored by Whirlpool Corporation.