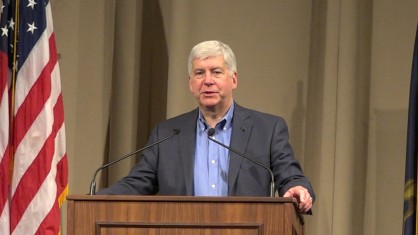 Governor Rick Snyder has signed a package of bills that provide incentives to large companies that create more than 250 jobs in the state. The jobs also have to pay at least the regional average wage. Standing at the site of a former landfill in Oakland County Wednesday, the governor said while the legislation is focused on large companies, he doesn't want to look past small business.
"One thing we shouldn't forget because we talk about large job opportunities here is a lot of huge, important opportunities for our families come from small and medium sized businesses," Snyder said. "We're not walking way from that at all. As we continue to emphasize small and medium businesses and look at the great tools we already have in place, we were missing a tool for larger opportunities."
Governor Snyder says he doesn't want the state to have the largest and biggest incentives. However, he does believe the state must be competitive.