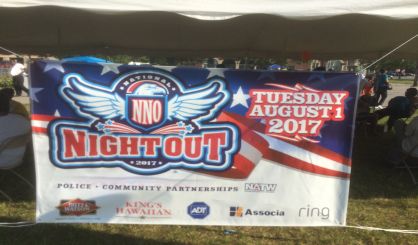 Hundreds of southwest Michigan residents have had a chance to meet their local police thanks to the latest National Night Out event. Police departments all over Berrien County gathered in local parks Tuesday night, showing off equipment, giving out goodies, and cooking up hot dogs. Benton Harbor Department of Public Safety Director Dan McGinnis told WSJM News it's about community engagement.
"We're giving people the ability to see firefighters, to see police officers, to see us when there's nothing wrong, when we're just having fun, just talking," McGinnis said. "It's beautiful. I love it."
In Benton Harbor, they gave away a couple of bicycles and some book bags to the kids. In St. Joseph Township, everyone gathered at Riverview Park to meet their police. St. Joseph Township Police Officer Rick Knapp told us the turnout was wonderful. 
"It shows the kids the different equipment and also the taxpayers to see what their money's being utilized for," Knapp said. "That's why we showcase the public safety displays, and then we have giveaways for the children."
Also on hand in Benton Harbor were Benton Township and Michigan State Police. In St. Joe Township, there was Royalton Township, St. Joe City, Lincoln Township, and the Berrien County Sheriff's Department. There were also Night Out events in Buchanan and Berrien Springs.