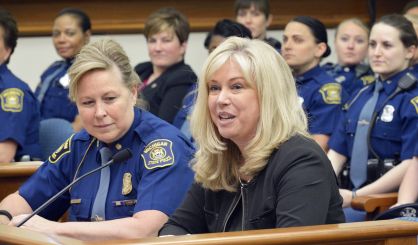 State Senator Tonya Schutmaker is working on new legislation in response to a recent situation in Sanilac County in which a man convicted of rape was briefly awarded joint custody of a child. Schuitmaker tells WSJM News the mother of a child conceived through that rape almost partially lost custody because she applied for public assistance, triggering a paternity action. Shuitmaker says her plan will prevent those situations.
"We're going to strengthen the notice requirements of this," Schuitmaker said. "Certainly, keeping rape survivors and their children who were conceived through rape is the top priority of this legislation."
Schuitmaker had the issue brought to her attention by the attorney for the Sanilac County woman in question.
"I couldn't believe what I was hearing," Schuitmaker said. "A rapist was actually being granted custody. That defies common sense."
Schuitmaker tells us the bill strengthens a federal rule. It has the backing of Right to Life Michigan, as well as the Sanilac County woman involved in the story. She announced the bill on Thursday.