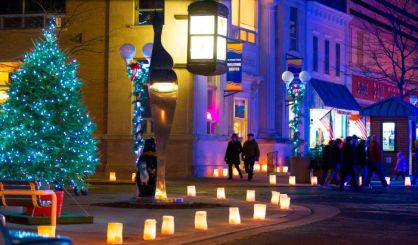 Downtown St. Joseph will be a sight to see this Friday as the 23rd annual Luminaries Festival takes place. St. Joseph Today's Amy Zapal tells WSJM News the festival is a way to light up the downtown, everyone a chance to take advantage of special sales, and celebrate the coming of the holidays. 
"It's kind of a kicker, the opener to a wonderful holiday season that's filled with different things that our members and all of the people who make up this community up, it's a starter for all of those events," Zapal said.
They'll have 1,000 luminaries set up along the streets of downtown St. Joseph. Everyone's welcome to come out for a peaceful night. The luminaries will be lit from 5 p.m. to 8 p.m.
Photo from StJoeToday.com.