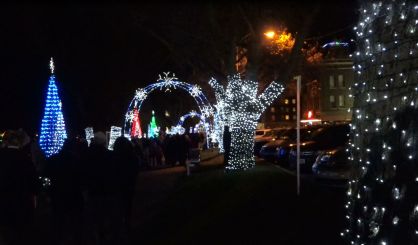 Coming up this Friday, the city of St. Joseph will light up the bluff. The St. Joe High School Choir will be on hand to perform at 6 p.m. when folks gather to see one million Christmas lights turned on for the season. That's according to St. Joe Marketing Director Susan Solon, who spoke with WSJM News about the festivities.
"Everybody questions me," Solon said. "You know, 'Susan, is there really a million lights down there?' I am saying yes. I haven't counted every one of them, but I say there's a million lights on the bluff."
Solon tells us St. Joe Today will hold its annual live mannequin display downtown starting at 7 p.m. This will be the eleventh year for Light Up the Bluff, and Solon is expecting mild weather. At a meeting Monday, the city saluted the high school choir and its director, along with the city parks department, for helping make Light Up the Bluff take place.