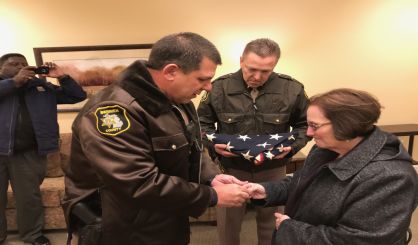 The Berrien County Sheriff's Department will be on hand Monday when a World War II hero is laid to rest in St. Joseph. Chief Deputy Robert Boyce tells WSJM News an honor guard from the sheriff's department spent Thursday escorting the remains of Navy Airman Albert "Bud" Rybarczyk from Grand Rapids to St. Joe. His remains were found in a plane in the south Pacific in 2014. Boyce tells us the sheriff's department accompanied Rybarczyk to Starks and Menchinger Funeral Home Thursday.
"The Navy and the family both contacted us, and based upon the circumstances, we thought it was a fitting tribute to Albert, AKA Bud," Boyce said.
Rybarczyk will get a proper military burial on Monday at St. Joseph Catholic Church at 1 p.m.
"We will have people on and to assist with the escort from the church to the cemetery," Boyce said. "The Navy will also be there to do the honor guard and the military rights."
Rybarczyk was the radio operator in the bomber that crashed in 1944. Boyce says Rybarczyk's niece was on hand at the funeral home Thursday.