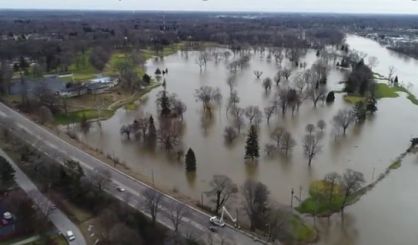 The Berrien County Board of Commissioners has declared a Local State of Emergency due to the flooding this week. Berrien County Sheriff's Department Chief Deputy Robert Boyce tells WSJM News the declaration is the first step in getting either state or federal aid to clean up.
"It's a formality when local municipalities or local counties declare a state of emergency so we can attempt to get further assistance with resources in the recovery and damage assessments as a result of the natural disaster," Boyce said.
The Local State of Emergency declaration now goes to the Michigan Emergency Operations Center, and then the governor will have to decide if the request for aid is accepted. If enough counties or cities declare an emergency, then the state could declare one and get federal aid. The city of Niles has also declared a state of emergency. Niles city officials tell us the initial assessment shows 46 homes and nine commercial structures have suffered significant damage. On Monday, city and county staff will begin a property loss assessment there.