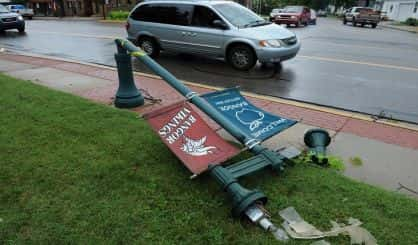 Cleanup continues in the Bangor and Grand Junction areas following a violent storm that ripped through the area Saturday afternoon. It struck shortly after one p.m. Witnesses reported seeing a tornado in Bangor, where trees were knocked down all over town. Mayor Nick Householder told WSJM News the first priority was protecting residents.
"At this point, it appears we're pretty safe," Householder said. "No one's injured. No one's hurt. That's the most critical thing. Then, the next thing is getting the city back on its feet."
Householder said the storm caused a gas leak which was quickly contained. After that, the priority was taking care of downed power lines and clearing the roads. One man, who identified himself as John, told us he saw the tornado as it passed through the city's north side.
"It came through, the trail it left as it was coming through sounded like a freight train with a loud whistle," he said. "I've been through one or two of them before, but this one was crazy."
The north side of Bangor suffered the worst damage. Also, in Grand Junction, trees were knocked down and the roof of Columbia Township Hall was partially ripped off. Michigan State Police say the First Congregational Church in Grand Junction has been opened as a shelter for those who were displaced by the storm. All roadways have been reopened and utility crews continue working to restore power. Police ask anyone who smells natural gas or sees a downed power line to report it.
Below are some images of storm damage we saw around Bangor and Grand Junction.