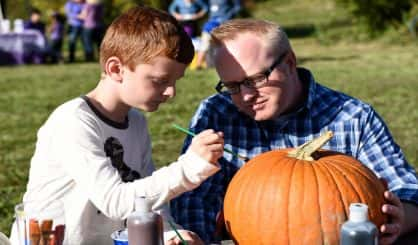 Child and Family Services of Southwest Michigan is planning its second annual Launching Hope event for this October, and it's now taking registrations from those who want to build catapults to be used for launching pumpkins as part of the festivities. Pumpkin Chunkin' was a part of Launching Hope last year, but Child and Family Services Director Joseph Goepfrich says you can now sign up to make your own device for doing so. You never know just how far a pumpkin will go.
"Last year's winner was actually a 12-year-old child, and then we had an adult whose pumpkin went no more than ten feet," Goepfrich told WSJM.
Launching hope, in addition to a family fun day, is intended to raise money for Berrien County Safe Shelter.
"Safe Shelter is an organization that provides the survivors of domestic violence the services that they need in order to start a new life," Goepfrich said.
Goepfrich says the event will also raise awareness about domestic violence. It'll feature a pumpkin decorating contest, a bean bag toss, children's games, live music, and food. You can register to compete at LaunchingHope.org. The event itself will be October 8 at Buchanan's Nimby Pond.