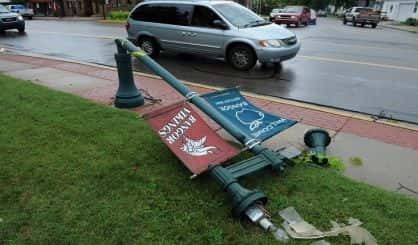 Cleanup is continuing today in West Michigan from a tornado outbreak over the weekend. Survey teams from the National Weather Service are headed back out to Allegan, Kent, Ottawa and Van Buren counties today to survey tornado damage. The NWS says there is preliminary evidence of EF-1 damage in Van Buren, Allegan and Ottawa counties along with EF-0 damage in Kent County.
"It's essentially forensic meteorology. We go out, we look at the damage indicators from what it did, and we correlate that with the radar," says NWS meteorologist Bob Dukesherer. He says they are looking for signs of rotation, trees twisted off, how much foliage is missing and how the debris was scattered.
"We are looking for trees that are pointed in from the west and in from the east, as a tornado will suck things in to a center."
This man told us he saw the tornado as it passed through the north side of Bangor.
"I came through and just the trail that it left coming through, it sounded like a freight train with a loud whistle. I've been through some before, but this one was crazy."
Bangor Mayor Nick Householder told WSJM News the first priority was protecting residents.
"At this point, it appears we're pretty safe, nobody's hurt. The next thing is how do we get the city back on its feet?:
Some three-dozen homes need repairs in Allegan County as well. An EF-1 tornado also hit along the border of Ionia and Montcalm counties during a violent storm on Saturday afternoon. The NWS says more surveys need to be completed before detailed information is released.