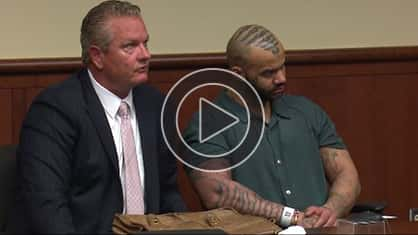 Courtroom Footage Courtesy ABC57
A Benton Harbor man charged in the death of an 8 month old child is headed to trial.
On Tuesday, Brandon Beshires was in court for a preliminary examination, which he waived. He then pleaded not guilty in the death of Carter Donovan, of Hartford, in February. Beshires was supposed to be caring for the boy while his mother was at an appointment, but instead, the baby died from trauma to the head. Beshires' attorney Don Sappanos says the details will be worked out at trial.
"My client has given me an explanation that sounds plausible to me, but again, I'm not a doctor and I think this will come down to the battle of the experts," Sappanos said.
Mike Meachum, Carter Donovan's great uncle, says he's just trusting the justice system at this point.
"I feel discreet sorrow for everyone involved, him for the choices he's made, and our family for being the recipients of it," Meachum said. "I just want justice served."
The trial for Beshires has been scheduled for October 25, his bond has been set at $1 million.