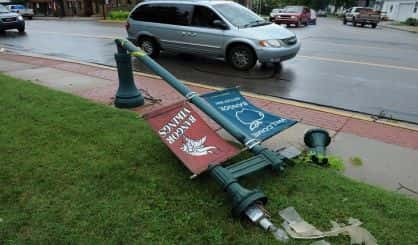 We're getting a clearer picture of the destruction in Bangor from Saturday's tornado. Fire Chief Derek Babcock joined COSY-FM's Paul Layendecker to talk about the damage left behind.
"There's been about 28 to 30 houses that were damaged by the storm," says Babcock. "Five or six of those will be deemed unlivable with complete damage."
An EF-1 tornado was on the ground from Bangor into Allegan County. It was one of six confirmed by the National Weather Service from a violent storm that tore through southwest and west Michigan.
"The major extent of the storm (damage) was caused by the trees," he says, adding tree removal will be the biggest part of the cleanup. Babcock adds up to 25 utility poles also had to be replaced. The north side of Bangor was hit hard by the tornado.