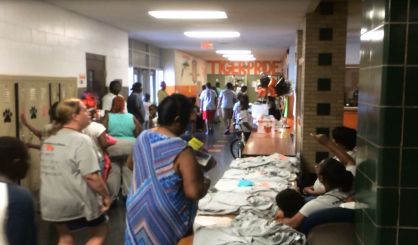 Students at Benton Harbor Area Schools are prepared to begin the new school year with a roar. On Wednesday, a back to school pride event took place all day at the high school. The program featured a cook off, a basketball tournament, raffles, and school supply giveaways. It was organized by students in the 21st Century Community Learning Center program, and director Julie Earle says the kids did a bang up job.
"Their summer lesson is they planned this event, they organized it, and they did the budget, and went to all the donors and vendors and got all the prizes themselves as their summer project-based learning lesson," Earle told WSJM News.
Superintendent Dr. Shelly Walker said the kids had a great time.
"They have their faces painted, they're eating, they're happy," Walker said. "We've been able to supply backpacks, and notebooks and paper, and I think that the community's spirit has just been enhanced."
Walker estimated more than 1,000 people came out for the day. At the end, a TV, a bicycle, and a brand new Whirlpool washer and drier were given away. Organizers said they couldn't have been more pleased with the Tiger spirit on display. The new school year for Benton Harbor begins September 6.