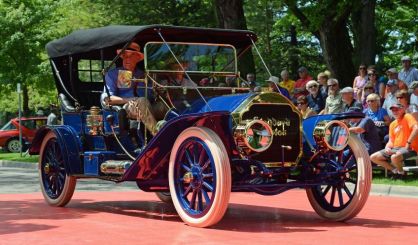 The winners of the 12th annual Lake Bluff Concours d'Elegance car show have been announced. The show is held at St. Joseph's Lake Bluff Park each August for the owners of classic vehicles to show them off, and entries can receive awards in a variety of categories. For this year's Concours, held on August 13, the best of show was a 1910 Stoddard Dayton K owned by Don and Joan Lyons, of Dowagiac. They also won the people's choice award. Taking the Chairman's Choice award was a 1960 Vespa 400 Microcar owned by Rob and Patty Gerring, Elkhart, and going home with the award for founder's choice was a 1924 Nash 690 Touring owned by Doug and Jennifer Williams, out of Prudenville, Michigan. You can see a full list of the winners below.
Featured classes for the event were:
· Art Deco Airflow – Chrysler and DeSoto Airflow automobiles from 1934 to 1937
· Concours Five-0 On Patrol – a selection of squad cars showing the marriage of automotive power and law enforcement.
· Jeep: Now 75 – Jeeps, old and new, will document the evolution of this military-turned-civilian vehicle
2016 trophy winners are:
· Best of Show – 1910 Stoddard Dayton K owned by Don & Joan Lyons, Dowagiac, MI
· Chairman's Choice – 1960 Vespa 400 Microcar owned by Rob & Patty Gerring, Elkhart, IN
· Founder's Choice – 1924 Nash 690 Touring owned by Doug & Jennifer Williams, Prudenville, MI
· People's Choice – 1910 Stoddard Dayton K owned by Don & Joan Lyons, Dowagiac, MI
· Honored Marque – 1932 Nash 1083 Convertible Sedan owned by Geoffrey Lentz, Trafford, PA
· Best Sports Car – 1952 Nash-Healey Roadster owned by Allan & Jacqueline Ruckey, Waterford, MI
· Most Unusual – 1937 Hupmobile Custom Series Coupe owned by Greg Drufke, La Porte, IN
· Best Import – 1959 Fiat 500 "Jolly" Convertible Microcar owned by Randy & Rochelle Forester, Birmingham, MI
· Most Impressive Survivor – 1925 Buick Master Six Touring, George Mazurek, Muskegon, MI
· Engineering Excellence – 1969 Oldsmobile Hurst Olds 2-Door Hardtop owned by Joseph & Cheri Sroka, Dearborn Heights, MI
· Most Elegant – 1956 Cadillac Eldorado Convertible owned by Ken & Rosie Karrer, Austin, TX
· Outstanding Open Car – 1960 Dodge Phoenix Convertible, Randy Guyer, Minnetonka, MN
· Best Period Fashion Attire – 1931 Ford Model A Ice Cream Truck owned by Joseph Hornacek, Rochester Hills, MI
· Best Truck/Commercial Vehicle – 1947 Dodge Power Wagon Pick-up Truck owned by Birney & Allen Vanderboegh, St. Joseph, MI
2016 ribbon recipients are:
· Best Jeep – 1952 Jeep Military Police owned by Ken Schiffer, Bridgman, MI
· Best Airflow – 1936 DeSoto Airflow S-2 Coupe owned by Red McFadden, South Haven, MI
· Best Police Car – 1968 Plymouth Fury I Original Michigan State Police Car owned by Robert Wills, Battle Creek, MI
· Hagerty Youth Judging Winner – 1931 Buick Model 54 Roadster owned by Ray Donley, Midland, MI