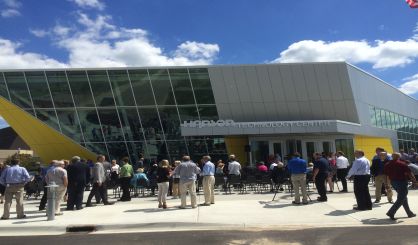 Lake Michigan College's Hanson Technology Center is now open for business. LMC broke ground on the $12 million facility at its Napier Avenue campus just last year, and on Tuesday, the grand opening was held. LMC President Dr. Bob Harrison says the Hanson Tech Center will serve as a modern manufacturing training ground, but that's not all.
"It also serves as a tool for our business leaders to bring companies and employees into he region," Harrison told WSJM News.
LMC Board President Mary Jo Tomasini says the facility will lead to economic growth.
"We estimate $9.3 million of economic impact in the first three years, and we're expecting 260 jobs at a minimum," Tomasini said.
LMC Dean of Career and Workforce Education Ken Flowers says students will be trained with state of the art technology at the Hanson Technology Center, noting it was designed to help the students explore different programs.
"All the labs are interconnected," Flowers said. "So, if students are interested in one area, they can see what's over there. So, they're all kind of drawn together."
The Hanson Tech Center will house LMC's programs for energy production, engineering, machine tool, skilled trades, and welding. Students will start taking classes there this fall.