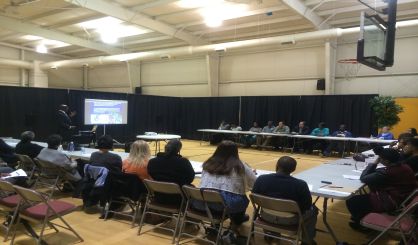 Police departments in southwest Michigan are hoping to build a sense of trust and mutual understanding with citizens. That's why a forum organized by Advocates And Leaders For Police And Community Trust — or, ALPACT — was held Thursday night in Benton Harbor. Retired Michigan State Police Captain Harold Love gave a presentation on the long-term stresses police officers face.
"To try to give the public a greater insight into the law enforcement culture, humanize the law enforcement officer," Love told WSJM News.
Love recounted his own tough times as a cop, and showed a video of an officer mistreating a young person. He said police departments need to make help available to officers so stress doesn't ruin them, and asked folks for understanding. Benton Harbor Public Safety Acting Chief Dan McGinnis told us everyone has their bad days.
"It was good for citizens to see, and also to respect their opinion as far as we've got issues, too," McGinnis said. "What needs to happen is we need to kind of come in the middle. The police officer might have a bad day, and the citizen might have a bad day, but we have to have the disposition to be able to work out whatever situation we're in."
Captain Love said it's a two-way street, and police departments should make sure cops have "cultural competency" and show folks respect. McGinnis told us he wants anyone with complaints about an officer to report them, as he's got policies in place to react when someone has been abused.