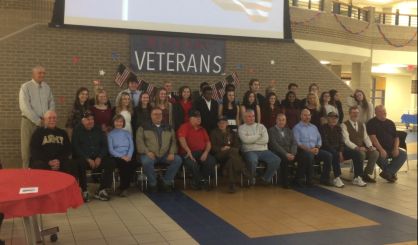 St. Joseph High School is saluting area veterans. For the third year, the school's Student Senate has held their annual veterans breakfast to say thank you around the Veterans Day holiday. Mia Altholz is the Student Senate President and talked to WSJM News about the meaning of the event.
"It's very important and is something I don't think is recognized enough by students," Altholz said. "It's a great opportunity for us to be able to continue providing this breakfast for veterans. They did so much for us in a lot of ways that I can't even imagine the sacrifices."
High school staff members and elementary students were also featured in a video shown recognizing their parents and grandparents for their time in the military.