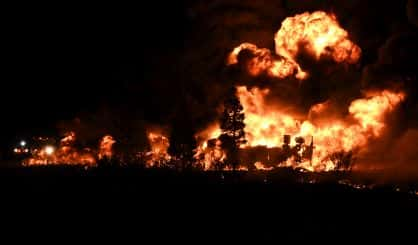 A Benton Harbor man is expected to recover after he suffered minor injuries when the tanker truck he was driving rolled over early Monday and caught on fire near South Haven. 45-year-old Michael Bennett was on the I-196 ramp to Pullman Road when the crash occurred. When the tanker caught fire, three men who happened by managed to drag Bennett to safety. One of them, Jeff Hunter, from Gaylord, tells WSJM News that Bennett was still conscious, and when he told the other three he'd been hauling gasoline, the men pulled him as far away from the wreck as they could. The other two Samaritans have been identified as Shawn Crittendon and Chad Edgington. Hunter says it's good they were all there.
"It was basically the grace of God that all three of us were there because I don't know that two of us could have done it," Hunter said. "He's a fairly large guy. So, thankfully, all three of us were there, and we were able to help him out."
Hunter was on northbound I-196 heading home from Chicago when he came upon the wreck. Bennet, the truck driver, was taken to a hospital in South Haven. Police think he may have been going too fast for the ramp.