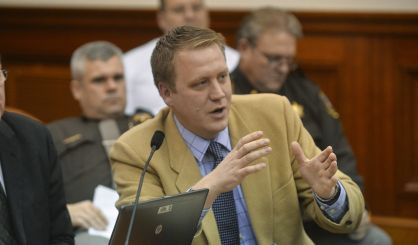 Blindsided is how Michigan House Energy Policy Committee Chairman Aric Nesbitt feels about this morning's announcement by Entergy that the Palisades nuclear power plant will be closed on October 1, 2018.
"I thought our next fight would be 2022 when the purchase power agreement would be up with Consumers," the Lawton Republican tells WSJM News. "Not 2018 or even an announcement in 2016. This surprised me. This is a sucker punch to the hardworking families in Van Buren County." He adds he feels the announcement "puts Michigan's energy future at greater risk."
Nesbitt is at the helm of widespread efforts at the Capitol to pass an overhaul of the state's energy policy, and he says this hurts. He plans to send a letter to the Michigan Public Service Commission to urge them to reject the move by Entergy to shut down the plant. Palisades employs around 600 people in Covert Township.
"I'm calling on Entergy to reconsider it's decision to prematurely close Palisades. This is a wrong decision; a wrong decision for our community, wrong decision for our state, wrong decision for Entergy."
South Haven City Manager Brian Dissette tells WSJM News in a written statement that the city is "extremely disappointed" to hear of today's decision to close Palisades in less than two years. He adds in partnership with Kinexus and Southwest Michigan First, South Haven will "continue to work to attract and welcome new companies to the area."
The company says the plant will be refueled as scheduled in the spring, and permanently shut down on October 1, 2018. Entergy says since purchasing the plant from Consumers Energy in 2007, "market conditions have changed substantially, and more economic alternatives are now available to provide reliable power to the region." The company's chairman and CEO Leo Denault says they will work to help the plant's roughly 600 employees find other jobs. Shutting down Palisades will save Consumers' Energy customers up to $172 million over four years.