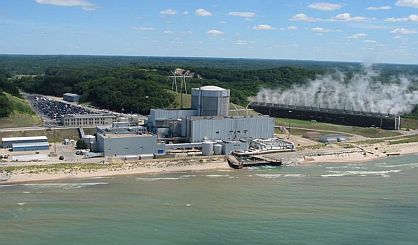 Palisades nuclear power plant owner Entergy says changes in the marketplace have led to its decision to close the Covert Township facility in 2018. Bill Mohl, President of Entergy Wholesale Commodities, tells WSJM News a purchase agreement it has with Consumers Energy has become less viable.
"What's happened is, with the Palisades plant, that we sell all of the output to that facility to Consumers under our purchase power agreement," Mohl said. "What we've seen in the markets is a significant deterioration of prices, and that's really due to…the abundance of natural gas."
As a result, Mohl says Consumers Energy could get power elsewhere for less.
"Over time, the attractiveness of the price of that agreement has become less competitive when you compare it to market alternatives," Mohl said.
Right now, Entergy is working to find places for the 600 employees at Palisades when the place shuts down in October of 2018. Up to 180 of them could have jobs at Consumers Energy. Entergy and CMS are also investing $10 million in economic development for the region as the shutdown looms. Staff will also still be needed to Palisades for years to come, as the decommissioning of the facility could take as long as 60 years. They're also going to need security for many more years.