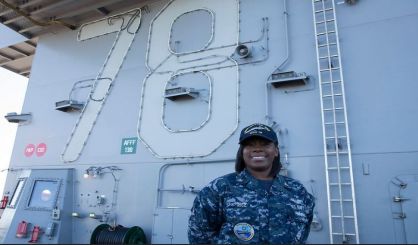 A native of Benton Harbor who joined the U.S. Navy in 2009 is now in Norfolk, Virginia, helping to pre-commission one of the nation's newest and most high-tech aircraft carriers. Petty Officer 2nd Class Angel Rice tells WSJM News she grew up playing sports, but decided on a military career when that didn't pan out. She's been all over the world since then, and tells us a life in the Navy will open your eyes.
"Learning more about different cultures and being around different people from other states," Rice said. "It was definitely an eye opener. I love that we have people who are so different."
Rice grew up in Benton Harbor, and graduated high school in Georgia. Since joining the Navy, she's been to Portugal, Greece, Spain, Dubai, and Turkey. She's also working at a bachelor's degree, although still planning a full 30 year military career. Rice says young people thinking of the service should look into it.
"I would definitely tell them that it's a life changing experience," Rice said. "I can't say that it's all glitz and glory because it is hard work, but joining the military is like putting yourself in another family."
Right now, Rice is aboard the brand new aircraft carrier, the Gerald R. Ford, preparing it for the general fleet. After that, she'll be out on the open waters with it, making sure jets are properly fueled. She describes the carrier as a sort of floating city that gives her plenty of stories to share when she visits family in Benton Harbor.