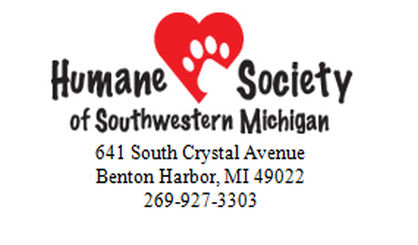 Coming up this Saturday is the Humane Society of Southwestern Michigan's annual Holiday Open House. Humane Society Executive Director Jill Svoboda tells us it's when everyone's welcome to come to the shelter in Benton Township to meet the critters and maybe donate something for them.
"It's like a Christmas party for the animals, or a holiday party for the animals if you will, for the animals," Svoboda said. "So, we're asking our community to be Santa to our animals, and that could be with gifts of dog food, kitty litter, cleaning supplies, or  a monetary donation."
You can also make a contribution to the Humane Society's campaign to raise funds for a new shelter. If you do, the Upton Foundation will match you. Svoboda says they're about halfway there to reaching their million dollar goal for the shelter. The open house runs from 11 a.m. to 4 p.m.