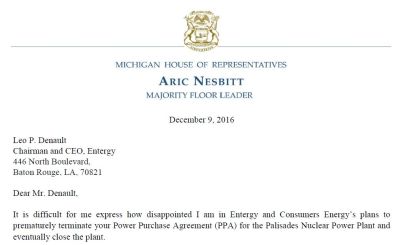 State Representative Aric Nesbitt has sent a letter to Consumers Energy, Entergy Corporation, and the Midcontinent Independent System Operator, imploring them not to shutter the Palisades nuclear power plant in Covert Township. Nesbitt tells us Entergy and Consumers Energy abandoning their electric contract is a raw deal.
"I'm trying to show the main stakeholders how their actions will not only put access to reliable energy at risk, but also have an extremely damaging effect on our community, where Palisades is located," Nesbitt said. "Ending this purchase power agreement early is bad for the families of southwest Michigan, and bad for the future of the energy supply for Michigan."
Nesbitt, who is chair of the state House Committee on Energy Policy, says the contract between Entergy and Consumers was supposed to be through 2022. He tells us dropping it just leaves southwest Michigan our in the cold, and he's also asking the Michigan Public Service Commission to block the move. Attached below are the letters Nesbitt has sent.