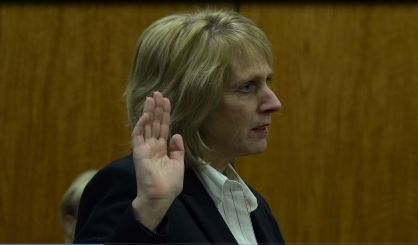 Kim LaSata has been sworn in as the new state Representative for Michigan's 79th District. LaSata was given the oath Thursday at the Berrien County Courthouse by her husband, Judge Charles LaSata. She told WSJM News she wants to do things for the police when she goes to Lansing in January.
"I want to make sure that our law enforcement have the tools, the resources, the training they need to protect us, and from what we saw this summer, not only to protect us, but to protect themselves," LaSata said.
LaSata also wants education and infrastructure to be priorities. She's hoping to get involved in appropriations. LaSata will replace state Representative Al Pscholka, who's been term limited out of office.