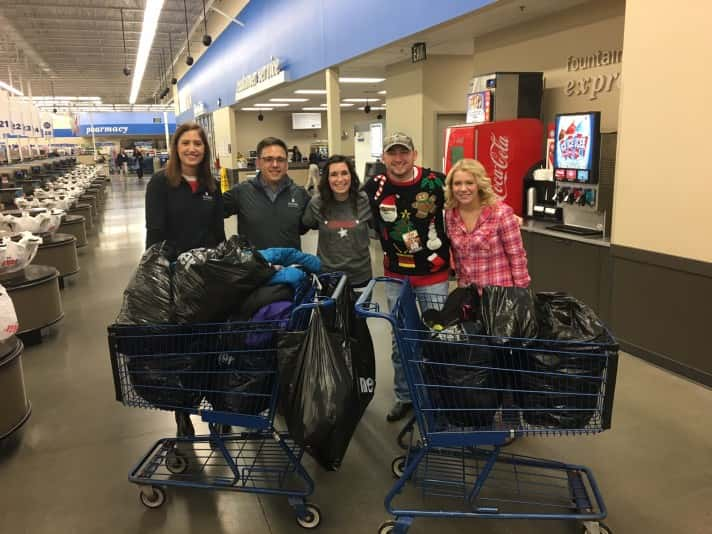 Y Country's $500 Holiday Shopping Spree
with Honor Credit Union and Meijer in Stevensville
Our $500 Holiday Shopping Spree happened today…but that's not all that happened. An incredible showing of heart and generosity happened today. Let's start from the beginning…
We picked 10 finalists over the course of 2 weeks to meet at Meijer in Stevensville where we would pick our winner. One of our finalists was Cassie, a 2nd grade teacher at Roosevelt Elementary in Stevensville, MI. When Lindsay Kay emailed Cassie to give her all of the information about being a finalist, she replied with:

Lindsay forwarded the email me to show me what Cassie had said. Situations like this hit me hard because at age 10, my twin sister and I faced an unexpected family tragedy that eventually put us in the same position as the students Cassie wanted to help. I can still remember Mrs. Vincent, dressed up like Mrs. Claus, coming to deliver Christmas presents that had been purchased and donated by generous, caring strangers. Luckily, that was the only year we had to be worried about not getting a Christmas, but that has stuck with me, and will continue to stick with me, for the rest of my life.
I replied to Lindsay's email asking if there was any way that we could do something for Cassie to help with her goal…Lindsay was on board right away. She forwarded the email on to our coworker Beth who's the account manager for Honor Credit Union, who then forwarded the email on to Kaylee at Honor Credit Union. Kaylee's exact response was "Absolutely."
We weren't sure how we would help, but we all knew we wanted to. What we came up with was, if she won, Honor Credit Union would double her shopping spree…meaning $1,000 to use towards whatever she wanted. Not just coats, boots, mittens, etc but something for herself or her children. If she didn't win, we were going to find a way to help her with getting the funds/items necessary to help her students.
Our route to narrow it down to the final qualifier was a "reverse drawing." The first name to be drawn out of a fishbowl would be out of the running, and that person would pick the next name to then be removed until we get to the last person. Here's what happened:
Today….today was a great day.
–Matt Malone