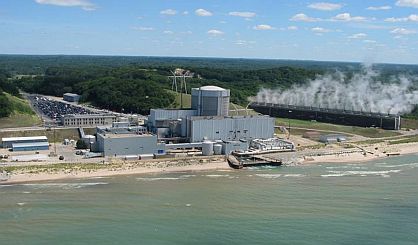 The closure of the Palisades nuclear power plant in Covert Township will be a large blow to the tax rolls in Van Buren County, although how long it will be before it's felt remains unknown. Van Buren County Administrator Doug Cultra tells us he doesn't think revenue from the plant will just go away suddenly.
"I think it'll be stepped down," Cultra said. "I think the next two years, we'll pretty much see what we have in the past, which is about $1.7 million. I think thereafter we don't know until we can get some more information from Palisades."
Cultra says news Palisades is closing in 2018 shocked everyone.
"I've been dealing with this power plant on and off for the last 29 years," Cultra said. "I wouldn't have suspected this at all."
The Palisades plant also means about $1.8 million a year for Covert Township, and $4.4 million a year for Covert Schools. Cultra says Palisades is one of the biggest taxpaying entities in the county and also one of the biggest employers, with 600 workers. Cultra says the additional effects of lost jobs are difficult to predict.