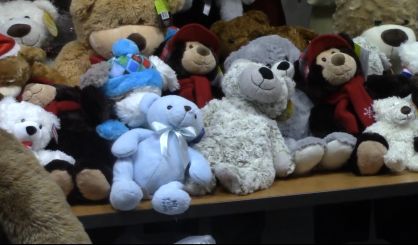 The bears have been delivered. Staff on and volunteers from the South Bend International Airport dropped off three vehicles' worth of teddy bears at Lakeland Hospital in St. Joseph on Wednesday as part of the fifth annual Bears in the Air campaign. The airport's Mike Daigle tells WSJM News it was a lot of fun.
"The reception we got was absolutely terrific by the staff and volunteers that were there," Daigle said. "They were very, very appreciative of the, I want to say, very small donation that we gave them so that they can maybe do their job a little bit better and maybe make a child's holiday season a little more enjoyable."
The airport this year collected more than 1,500 teddy bears to be given out to kids in four hospitals. They also raised money for a veterans center in South Bend. Daigle says they're happy to do anything they can to help out children and veterans this time of year.