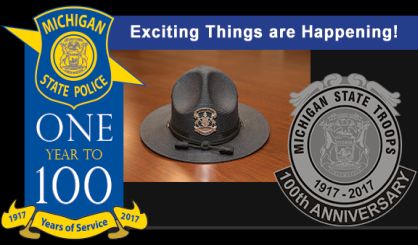 Michigan State Police are celebrating 100 years in 2017, and as part of the commemoration, troopers will be adding some special gear to their uniforms. Melinda Logan, with the MSP post in Niles, tells us they've bought new hats, matching those original 1920s troopers would wear.
"It has different colored braids, depending on the rank, but the best way to describe it is similar to a drill instructor campaign cover, and that was the traditional style back in that era," Logan said.
Logan says all active troopers started wearing the hats this week. They got to vote on a uniform change to make in celebration of the state police birthday. The Michigan State Police force was created in April of 1917.