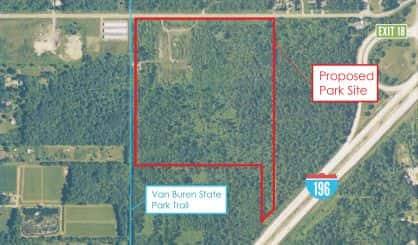 Two parks projects in South Haven will benefit from a couple of grants announced this week. First up is $300,000 for the development of a new $4.1 million park near the Van Buren State Park Trail. It'll include new ball fields and trails. South Haven Schools Superintendent Robert Herrera tells us the projects are good news.
"They'll benefit our year-round families, they'll benefit tourism, and they add a ton of value to the quality of life here in South Haven, enriching the quality of life, providing more quality opportunities for everybody here."
The other grant is $100,000, which is going to improvements at Pilgrim Haven Nature Preserve. They'll include restrooms, parking lots, a kayak rack, and an entrance gate. The money has been awarded to the South Haven Recreational Authority, which is made up of the city, the township, and the school district.