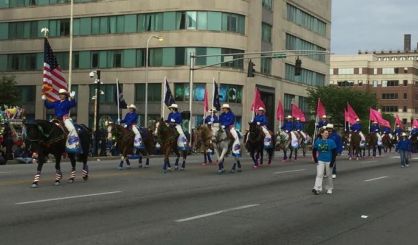 A group from Three Oaks is preparing to take the trip of their lives, as they've been invited to walk in the presidential inaugural parade next month. On January 20, President Donald Trump will watch as the Mid America Cowgirls Rodeo Drill Team proceeds past them for the celebration. Captain Debbie Dunphy tells us she applied for the inaugural parade in 2008, but the group was still too new back then to have enough on its resume. This time around, though, things were different. She says it's still hard to believe they got selected.
"I can't even begin to describe how excited I am," Dunphy said. "It's surreal. I'm not sure when it's really going to sink it. It's just such an honor, and the chances of it were just so remote."
Dunphy is still getting details about how the parade will work.
"My understanding is that we go right down Pennsylvania Avenue, we'll go right past the reviewing stand of the newly sown-in president and vice president and their guests," Dunphy said.
The rodeo drill team will bring 18 horses to Washington, D.C. for the parade, as well as about 40 people. The group is made up of women and girls from 7 to 65 who take part in parades and rodeos all over the region. Dunphy thanks all of their supporters for making the dream come true.
There is a GoFundMe page set up for the drill team as it tries to raise money for the trip. Also, the Three Oaks American Legion is planning a celebration to help defray the cost for the team when it gets back. The party will  be on January 28, and the cost to get in will be $7.50 for adults. They'll have a spaghetti dinner from 5 p.m. to 9 p.m. and then music from 9 to midnight.  The drill team will also show pictures and share stories from its trip.